Learn Khmer Cooking and Delight Your Friends
In only half a day, you will learn delicious Khmer recipes for yourself as well as to delight and impress all your friends
Welcome to Khmer
Gourmet Cooking Class
Hi !
I am Sreypeo, Executive Chef in a 5 stars hotel, I have prepared for you different menus available for everyone with or without cooking experience.
With my team of teachers, you will first visit the local market, then we will be ready to explore with you the basics of Cambodian cooking.
With Khmer Gourmet Cooking Class in the center of Siem Reap (on Alley West Street in front of the umbrellas), it is a delicious opportunity to discover and learn the secrets of our authentic Cambodian cuisine, in a family atmosphere.
Collectives Lessons
Every day at 1.pm and 5.pm
Prepare 1. Starter 1. Main course, and 1 dessert
During this class, you will learn how to do Cambodian food in only 2.5 to 3 hours.
Groups
Special offer for travel agencies, students or groups from 10 peoples
From 10 peoples up
Learn & Cook
Your professional teacher will guide you through the instructions on how to make dish of your choice, explaining the ingredients and techniques for each dish.
Souvenir Certificate
You will never forget your lesson. Bring home your souvenir certificate and found all the recipes on our Website
Enjoy Your Own Food
After 3 hours working hard test the result sitting in a given site in a beautiful atmosphere in restaurant and enjoy your meal.

We Start Every Class With a Trip to The Local Market
Discover all the freshiest ingredients with our Chef at the local market and then head back to our kitchen to cook your delicious Cambodian dish with !
Khmer Menu
You can choose among the most popular and classic Khmer dishes.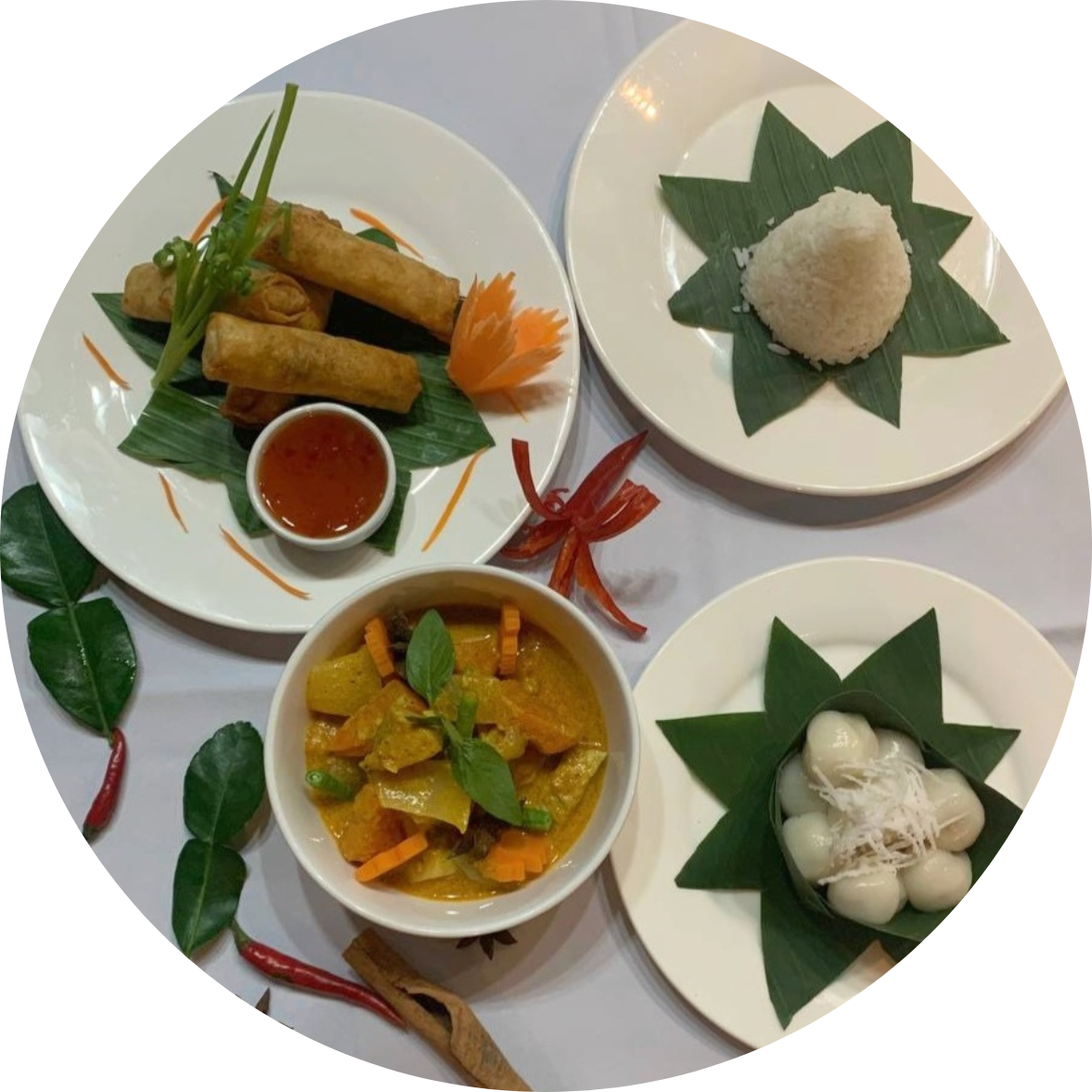 Vegetarian- Vegan Menu
We offer you all the khmer dishes adapted to vegetarians or vegans.
Desserts
End your menu with a khmer dessert you can make easily at home.
What to Expect
Show Up 15min prior to the start time
All Ingredients and equipment are provided
All classes start with a 15min walk to a nearby market
All prepared food is enjoyed as a family style meal at the end of the class.
"An awesome experience Saroun was great and the food we produced was sublime. We had some wine while we did the cook and the whole experience is a 'must do'"
"Amazing cooking class! The chef took us on a tour of the market, gave us options to choose from for appetizers and mains. Informative and fun."
"We had a wonderful time making really fun foods. Our chef was so sweet and patient with our mistakes haha! The experience was really rewarding because we did everything ourselves and it was all yummy. Tyler W."
« Thank you for this amazing experience! We cooked nice And delicious meals with an amazing chef, Sanouk! Thanks!« 
« The chef was very helpful and guided us through our choice of entree, main and desert.
It was very relaxed and she happily answered all our many questions.
We chose our dishes then had a quick trip to the local market where we were shown the fresh produce. Then she helped us cook our dishes and we ate them for lunch in the restaurant downstairs.« 
« Great experience and very lovely teacher. She took lots of time explaining the steps so we can recreate the meals at home. The trip to the market was also really interesting. Overall awesome class and really worth going. Would definitely recommend.« 
« Very well organized, pick up and drop off on time, market was an experience unique to the area, dishes were tasty and the stahh were amazing« 
« Friendly instructor who guided us and answered all our questions. Great experience chopping, cooking, serving (and finally eating, of course). The place is hidden inside an alley, which adds to the ambience of the restaurant that this is a part of.« 
« We did the cooking class today and it was awesome! Our teacher was very sweet and competent and the food was delicious! It was a chilled Atmosphere and an overall great experience, thank you very much! We wish you all the best, Kenan & Selina«