CHAR TROU KOUN:
Stir Fried Morning Glory
Introduction
About this Recipe
A vibrant dish from Southeast Asia, bursting with flavor! Slender slices of morning glory are stir-fried with garlic, onion, and juicy red pepper. A tantalizing blend of oyster sauce, sugar, and soy sauce elevates the taste, and a sprinkle of salt and pepper brings it all together. Serve it as a side dish or over a bed of rice for a tasty and nutritious meal.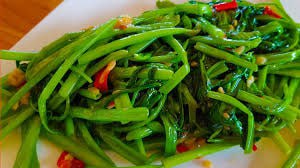 ½  tsp

  

sugar
½  tsp  salt
½  tsp crushed pepper
1 tsp oil for cooking
1 tbsp Soya sauce
1 tbsp Slice chili if you like  
2 pcs cloves of garlic, crushed
200 gr Water spinach or Morning glory
Abit of Vege stock or water
Step by Step Instructions
Step 1
Heat oil in frying pan, add garlic and sauté in low fire until golden brown.
Step 2
Add water spinach soya sauce. Keep stirring.
Step 3
Add salt and sugar, stir continuously, simmer for 2 minutes, adjust seasoning to taste, Serve with steamed rice.